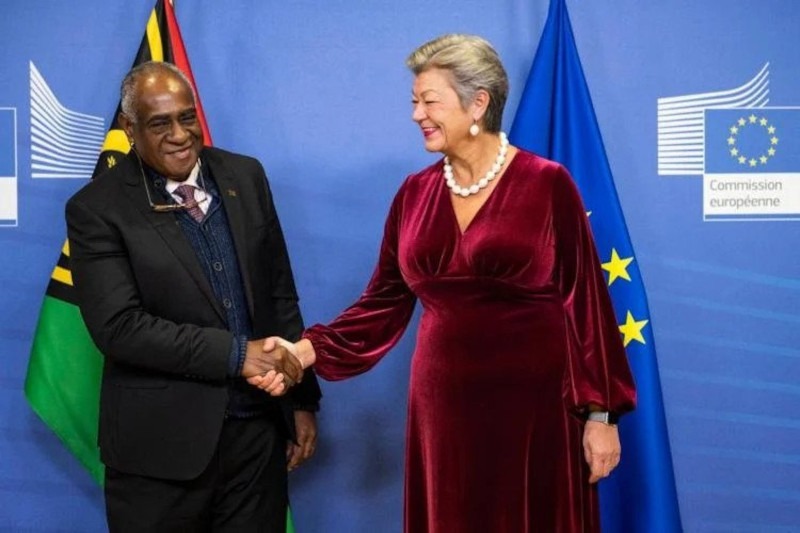 Richard Butler | Exclusive Report by Glenda Willie of Daily Post VU | FEB 1st, 2023
The European Union (EU) has given a further 18 months' extension to allow time for the Vanuatu Government to complete reforming its Citizenship Program.
This follows a letter from Prime Minister (PM) Ishmael Kalsakau seeking a 6 months' extension. The 18 months' extension will end on the 3rd of August 2024.
The EU Council made this decision on the 1st of December 2022 after having received a letter dated November 25, 2022, from Prime Minister Ishmael Kalsakau. In December 2022, PM Kalsakau led a delegation to the EU and laid out plans his government has embarked upon in reforming the Vanuatu Citizenship program.
The EU will continue to work closely with the established committee through virtual meetings so they get first-hand information on progress made on the ground.
According to Public Relations Officer (PRO) Joe Harry, virtual meetings will be held between the technical committee with Vanuatu's Ambassador based in Brussels, George Maniuri, to prepare the team for a further meeting with the EU on February 15, 2023.
At the beginning of 2022, the European Commission proposed the partial suspension of the application of the agreement with the Republic of Vanuatu, allowing citizens of Vanuatu to travel to the EU without a visa for stays of up to 90 days in any 180-day period.
Later in March 2022, the Council of the EU partially suspended the visa waiver agreement with Vanuatu, explaining in a statement their decision announced was due to risks posed by its investor citizenship schemes.
The suspension concerns only citizens of Vanuatu holding ordinary passports issued since 25 May 2015, when these Vanuatu investment citizenship schemes entered into force.
EU Council initially announced that a full suspension will come into effect on February 14, 2023.