Richard Butler | Exclusive Report by Daniel Hurst of The Guardian | MAY 9th, 2023
The military and police will expand links with Pacific Island countries as part of a nearly $2bn budget package aimed at boosting Australia's influence across the region.
After two months of rolling out big-spending defence announcements – including the Aukus nuclear-powered submarines – the Albanese government used Tuesday night's budget to signal renewed interest in diplomacy and regional engagement.
And in a boost for foreign aid over the longer term, the government has decided to resume annual increases in official development assistance from 2026-27. Those 2.5% annual increases will end up costing $8.6bn over 10 years from 2027-28.
The budget papers outline a $1.9bn package spread over five years to expand Australia's engagement with Pacific Island countries. The government said the "transformational package" would also deliver an increase in diplomatic staff in the region.
It includes $371m in funding to expand and improve the Pacific Australia labour mobility scheme, although the government expects to recoup about $300m of those administration costs through income taxes and application fees.
The largest part of the package is $1.4bn to "build Pacific peace and security".
The Australian defence force will expand engagement with Pacific Island countries "including through the provision of security infrastructure and maritime security capability", the budget papers say.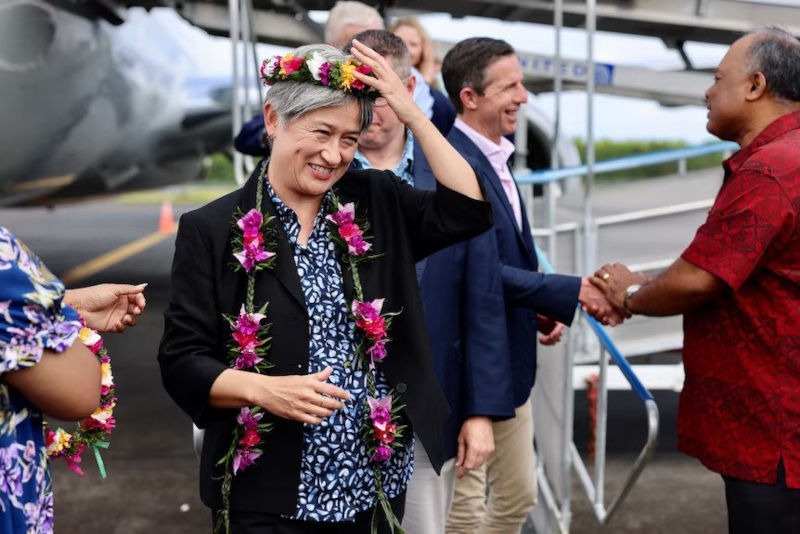 Australian federal police and the Attorney General's Department will also step up law enforcement and criminal justice cooperation with partners in the Pacific. After cyber-attacks in Tonga and Vanuatu, the Department of Foreign Affairs and Trade is setting up cyber resilience teams to help Pacific Island countries respond to such incursions in future.
More modest elements of the package focus on supporting regional architecture, humanitarian relief and disaster preparedness, improving diplomatic capability, and strengthening cultural and people-to-people ties with the Pacific.
"In our near region in particular, the threat posed by climate change and other non-traditional security threats are shifting the priorities of our partner security forces to focus on shared regional resilience and disaster preparedness," the defence portfolio budget statement said.
The government will provide a loan and grant funding to help upgrade a shipyard in Solomon Islands, although it is not revealing the amount due to "commercial sensitivities".
The budget puts a further $56m into expanding Australian diplomatic and business engagement with south-east Asia and Timor-Leste. The Asialink Business centre will have its funding extended to help Australian businesses to deepen their engagement in the region. Dfat will hire 10 extra staff in south-east Asia.
After a review warned that some parts of Australia's diplomatic network were "stretched to the point of ineffectiveness", the government has pledged $377m over four years towards Dfat's "core activities".
The largest plank of that funding is $250m to fill a funding shortfall in overseas property expenses, such as lease costs. It is understood the shortfall was caused by the termination of a funding measure; this budget ensures ongoing funding.
Dfat will spend $90m on bolstering its international communications network against the risk of cyber attacks. The department will also gain $80m over four years to boost its "ability to communicate Australia's story about who we are and promote our vision" for the Indo-Pacific region.
The funding will cover positions both overseas and in Canberra and will include a focus on countering disinformation. Staff will aim to "better filter and use data", including sharing information with Australian embassies across the region.