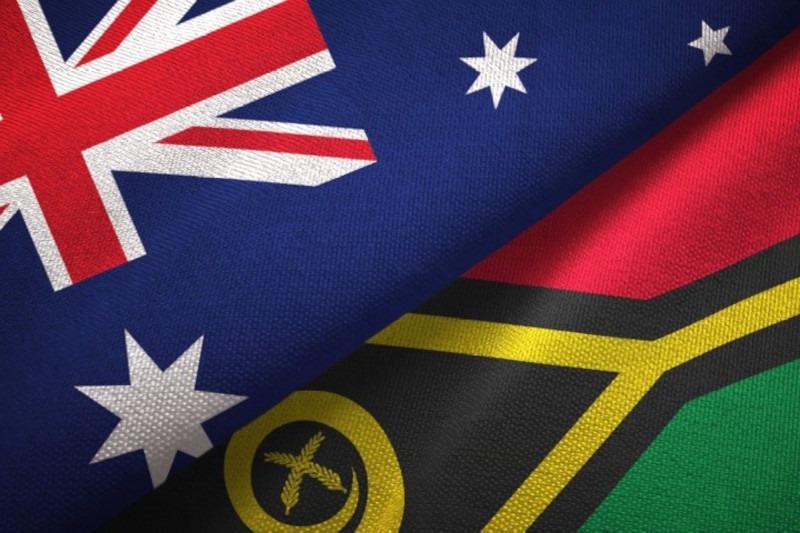 Richard Butler | Exclusive Report by Angeline Tan of The New American NEWS | DEC 15th, 2022
SINGAPORE — Australia inked a security deal on Tuesday with the Pacific island nation of Vanuatu in a bid to counter communist China's military expansion in the strategically vital region.
Australian Foreign Minister Penny Wong's visit to Vanuatu with a bipartisan delegation reflects Australia's increased attempts at diplomacy throughout the Pacific islands after the Solomon Islands signed a security pact with Beijing earlier this year.
Wong announced the signing in Vanuatu, declaring that this deal was evidence Australia remained the "security partner of choice" for the Pacific country.
She added in a statement that the deal would facilitate bilateral cooperation across a wide range of areas. The covered areas include humanitarian assistance and disaster relief, policing, defense, border security, environment and resource security, cybersecurity, and maritime and aviation safety and security.
In May, China sought but failed to ink a broader security and trade pact with 10 out of 18 Pacific island nations.
Australia and New Zealand have asserted that security and policing needs should be addressed within the region.
Australian Defense Minister Richard Marles said in the statement on Tuesday that the bilateral security agreement with Vanuatu "is a practical expression of the family first approach to peace and security in our region."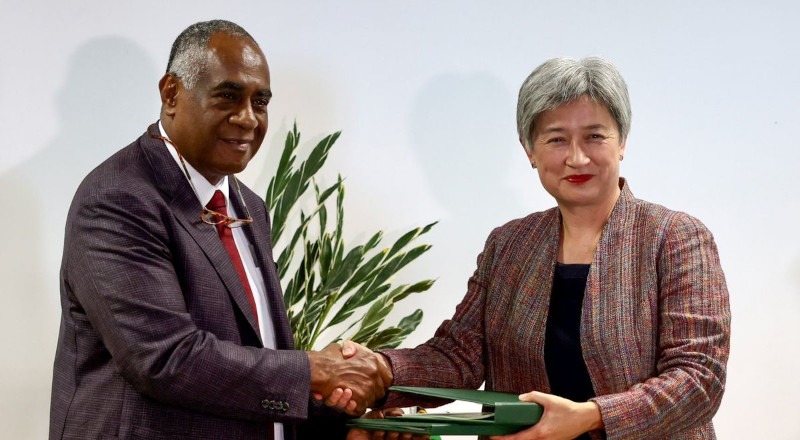 "It reflects Australia and Vanuatu's ongoing commitment to working together as members of the Pacific family to address shared security challenges," he said.
Vanuatu Foreign Minister Jotham Napat told reporters on Monday that the Pacific island's new government, elected last month, has not conducted security discussions with China.
Australia signed a defense agreement with Fiji in October to permit a greater mobility of military personnel. Talks are underway for a similar pact with Papua New Guinea.
After China's April announcement that it had signed a security agreement with the Solomon Islands, Australia and the United States have been scrambling to reinforce their diplomatic efforts in the Pacific.
Although no details of the April security agreement have been officially disclosed, a draft leaked in March would have permitted Chinese naval vessels to be harbored just 1,200 miles from Australia's coastline.
In response, Canberra was alarmed by details of the leaked draft with the Solomon Islands. Since the 19th century, Australians have feared the prospect that a potentially hostile major power might have a vantage point in the islands to their north. Those concerns were not unfounded, as Japan threatened Australia from those islands in 1942. Avoiding such potential threats has been one of the main goals of Australian foreign policy ever since WWII.
Speculations in 2018 that China might be seeking a base in Vanuatu kept Canberra on its toes, and prompted then-Prime Minister Scott Morrison to prioritize what he called his "Pacific Step-up" — a series of policies to counterbalance Chinese regional clout and reinstate Australia as the South Pacific's leading power.
There have hitherto been worries in the Australian government that Vanuatu could also be cozying up to Beijing. In 2018, there were reports in the Sydney Morning Herald and other Australian media that the Chinese government was wooing Vanuatu with the aim of setting up a military base in the country.
Sarcastically alluding to the Chinese government's pact with the Solomon Islands in April, Wong said Australia's recent agreement with Vanuatu would be unveiled in full "as nations committed to democracy, accountability and transparency."
Relations between Canberra and Beijing have nose-dived in the past year, particularly after Peter Dutton became defense minister. Dutton has spoken openly and regularly about the prospect that Australia would have to go to war with China to ally with the United States to curtail Chinese ambitions for regional hegemony.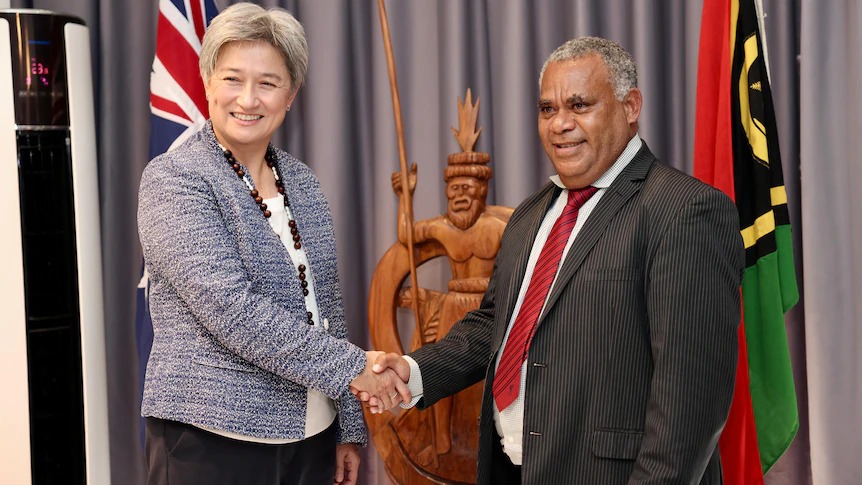 Earlier this month, Wong also lauded Washington's commitment to Indo-Pacific security, but said that it is important for the United States to prove to partners in the region their commitments beyond that of security issues.
"US policy should be based on a clear understanding of what the rest of the Indo-Pacific wants," she told the Carnegie Endowment for International Peace.
"The region sees development, connectivity, digital trade and the energy transition as vital domains in which consistent US leadership and influence would be welcome."
Wong, a proponent for regional trade, said the U.S. decision not to proceed with the pact now known as the Comprehensive and Progressive Agreement for Trans-Pacific Partnership (CPTPP) is still being felt, just as the decision not to proceed with a transatlantic pact is being felt by other international partners.
"Plainly there is a view in Washington that US allies must work together on principles of collective security," she said. "But we also have reached a stage in the evolution of our alliances where they will increasingly require a fully developed economic dimension as well."
Wong claimed that for Australia membership of CPTPP and other economic agreements show that its national interest "lies in being at every table — at every table — where economic integration in Asia is being discussed."
Wong claimed that the response to a U.S.-led Indo-Pacific Economic Framework (IPEF) depicts the desire for American economic leadership, but added, "A commitment to the region requires greater economic engagement."
U.S. President Joe Biden unveiled IPEF in May on the pretext of enhancing environmental, labor, and other standards across Asia.
Unlike traditional trade blocs, there is no plan for IPEF members to negotiate tariffs and widen market access, in the wake of valid domestic American concerns that homegrown manufacturing would be compromised.
Instead, the regionalist program seeks to integrate partners through agreed criteria in four main areas: the digital economy, supply chains, clean energy infrastructure, and anti-corruption measures.
The starting list of members besides the United States is Australia, Brunei, India, Indonesia, Japan, Malaysia, New Zealand, the Philippines, Singapore, South Korea, Thailand, and Vietnam.
Fortunately for patriotic Americans at home, the Biden administration has appeared to neglect calls for a return to CPTPP thus far, due to legitimate concerns about the implications this could have on U.S. jobs.
Washington has also responded to the Solomons agreement with caution, as it perceives that Beijing is trying to expand its clout at the expense of America and its allies. While Honiara is distant from the United States, it strikes a familiar chord for many Americans, as it was the scene of the Battle of Guadalcanal in 1942. That was where Japan's advance south-east through the Pacific Islands was eventually halted by U.S. marines in a brutal campaign, and the long push back to Tokyo started.