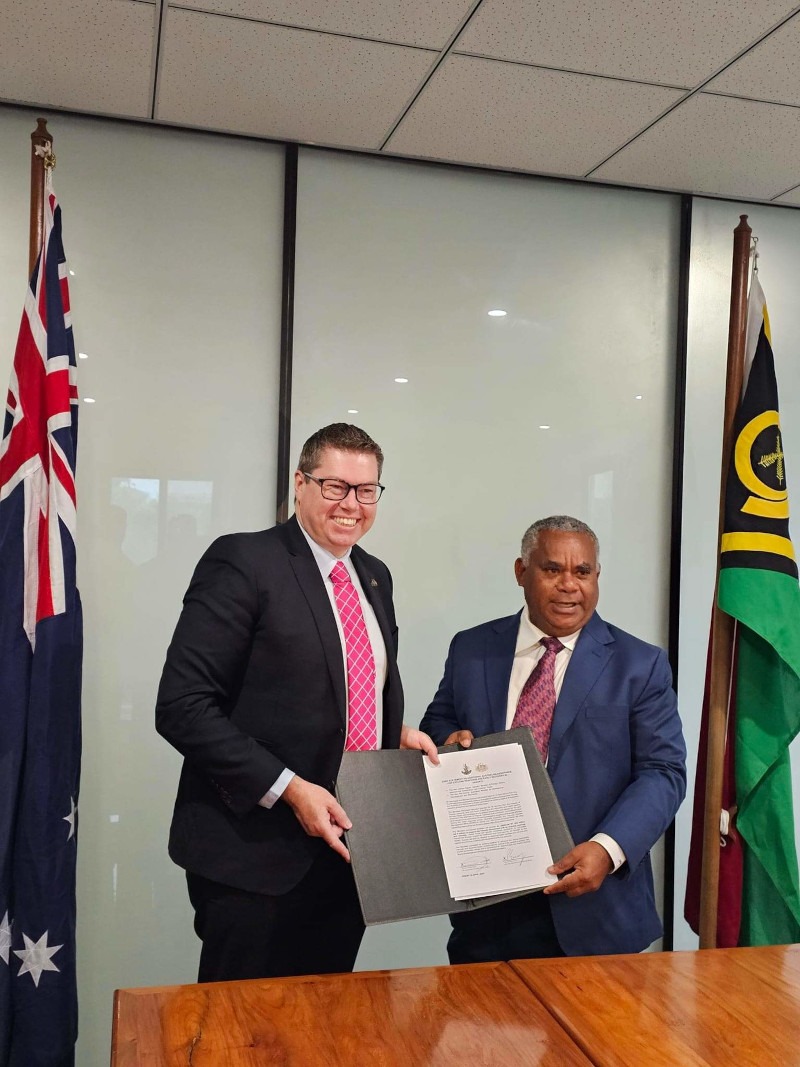 Richard Butler | Exclusive Report by Dept. of Foreign Affairs & Trade, Vanuatu | APRIL 14th, 2023
• The Hon Jotham Napat, Vanuatu Minister of Foreign Affairs, International Cooperation and External Trade
• The Hon Pat Conroy, Australian Minister for International Development and the Pacific
Minister Napat and Minister Conroy held bilateral talks on 14 April 2023 in Port Vila. The Ministers acknowledged the deep and longstanding partnership between Vanuatu and Australia and discussed a shared commitment to working together to support a peaceful, prosperous and resilient Pacific region.
The Ministers discussed Vanuatu's priorities for its recovery from the impacts of Tropical Cyclones Judy and Kevin, including in the education and health sectors. Minister Napat acknowledged the Australian Government and people for the swift response in the aftermath of Tropical Cyclones Judy and Kevin, conducting multiple relief operations and providing life-saving emergency supplies to the people affected. During the initial response phase, Australia supported the Vanuatu Disaster Management Office (NDMO) to deliver over 100 tonnes of humanitarian aid using capabilities deployed by the Royal Australian Navy Ship HMAS Canberra.
The Ministers announced Australia will provide an additional VT 655 million (A$ 8 million) to support the Vanuatu Government with its ongoing response and recovery. These funds will provide immediate assistance to vulnerable households through support for livelihoods and food security, as directed by the NDMO. Support will also be directed to repairing health facilities and schools and replacing curriculum materials and equipment lost to the cyclones.
The Ministers committed to working together to enhance the strong partnership Vanuatu and Australia share; underpinned by cultural links, people-to-people ties, shared democratic values and a commitment to responding to the Pacific family's shared challenges and achieving our shared aspirations.