Post by Richard Butler | 26th April 2016 |
An article by Anita Roberts with the above title has appeared in the Vanuatu Daily Post. (See extract below)
This is excellent news for those wanting to move to, invest in, or do business in Vanuatu. It augers well for future development on Tanna Island, and will surely make it more attractive for tourism ventures to set up here. We applaud the government of Vanuatu and the people of Tanna for their forward thinking attitude.
There is always a concern that the "wrong kind" of tourism development will damage the very attractiveness that is the drawcard. Vanuatu is an eco-tourism paradise, so it's great to see all concerned making the preservation of paradisaic beauty and natural friendliness of the reception a top priority.
Here's part of what Ms Roberts wrote…
Over 1000 children, women and men from villages at Whitesands, Middle Bush, North and South Tanna gathered to welcome the Deputy Prime Minister (DPM) and Minister of Trades, Commerce, Tourism and Industry, Joe Natuman, and his delegation from Port Vila to Imarapu village on Saturday with a massive custom dance.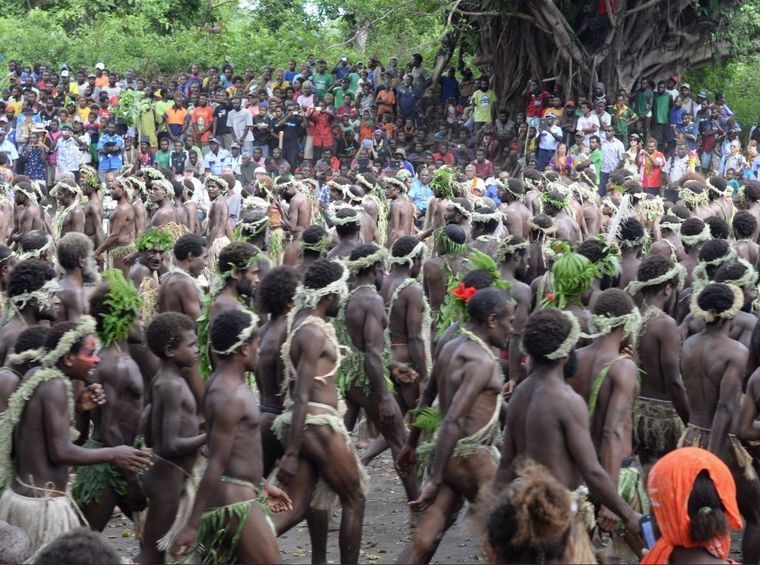 Following their arrival, a custom dance led the delegation to the "nakamal" where a pig killing ceremony was performed by 12 tribes as a traditional memorandum of understanding, representing the whole island, announced their desire to put aside differences and unite for development.

Through the pig killing ceremony, the people have decided they want to be part of the government's service delivery thus, have pledged promise to work closely with the provincial government and national government in all aspects of development.

Natuman applauded the initiative taken by the people as it will open the door to development though he strongly encouraged them not to copy foreign concepts of development.