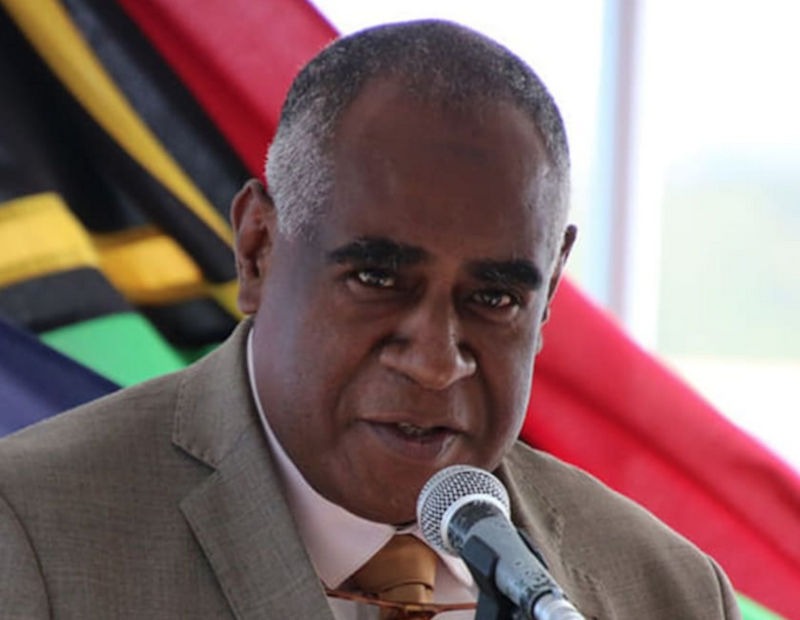 Richard Butler | Exclusive Report by Vanuatu Government | DEC 12th, 2022
Jotham Napat, Vanuatu Foreign Minister: Senator Honourable Penny Wong, Minister for Foreign Affairs, Australia; Honourable Pat Conroy, Minister for International Development of Australia; Australian Shadow Ministers and members of your delegation; media representatives; ladies and gentlemen. I am pleased to present this brief statement on the occasion of this high‑level bipartisan visit to Port Vila, Vanuatu, by an esteemed delegation of the Australian Government, and I wish to hereby acknowledge Honourable Penny Wong and Honourable Pat Conroy and their shadow counterparts for taking time out of their busy schedules to grace us with their presence. In addition, to the establishment of rapport we also touch base on issues of common interest, noting that the last such visit took place six years ago in December of 2016 by a delegation comprising the then Minister for Foreign Affairs, the Honourable Julie Bishop, MP; the then Minister for International Development and the Pacific, former Senator Honourable Concetta Fierravanti‑Wells; and their shadow counterparts, which include the current Minister for Foreign Affair, Honourable Penny Wong.
As Vanuatu and Australia celebrated 42 years of diplomatic relations in 2022, we acknowledge the cordial, strong and enduring bilateral relationships based on shared values and interests in a prosperous and stable region. This is a relationship that is made stronger by a very broad range of links at government, business and community levels, which is captured under the Pacific Step‑Up, perhaps made more so as Ni‑Vanauatu and the Pacific participated in Australia's labour mobility programs over the years, allowing hard‑earned remittances to trickle down to and improve livelihoods in rural Vanuatu while supporting crucial sectors in Australia such as agriculture and horticulture.
I also took the opportunity to acknowledge Australia's role as Vanuatu's primary humanitarian partner, due to its close proximity and through its commitment to support Vanuatu to build its disaster resilience, response and recovery capabilities. Australia provided $11 million to support Vanuatu's immediate response to Tropical Cyclone Harold, a Category 5 cyclone that hit Vanuatu in April 2020. As indeed more recently with Vanuatu's preparatory and recovery during COVID‑19. This is in addition to being a close security partner for Vanuatu and the region.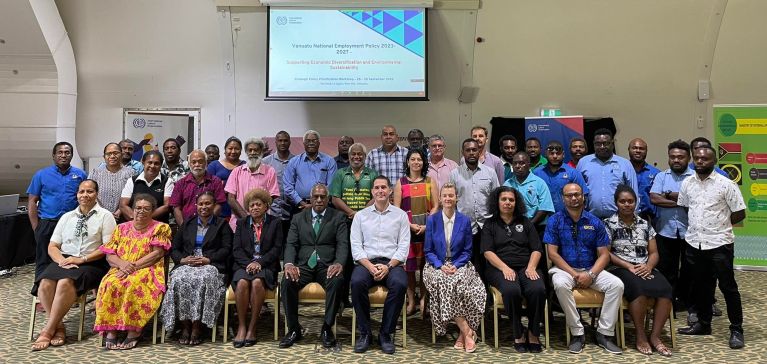 On the issue of regional security, we acknowledge the existential threat of climate change identified by the Boe Declaration as the single greatest threat especially to Pacific small island developing states, at first, effects which include global warming and sea level rise, increase in the frequency and intensity of tropical cyclones, accelerated ocean acidification and coral bleaching. Vanuatu welcomes Australia's recommitment to the Paris Agreement. Furthermore, I acknowledge Australia's policy on climate change and support through the Pacific Islands Forum on the regional ICJ Advisory Opinion Initiative, which is due for review at the UNGA in early 2023.
On the important matter of trade and social and economic relations, having ratified PACER Plus, Vanuatu looks forward to benefitting from its active implementation into the idea of recovery support as well as its hardship support components. Further to this, Vanuatu's active participation in Australia's labour mobility, while not without its fair share of issues has been an important flagship of our enduring economic partnership. We look forward to working closely with Australia on new mobility arrangements and in the PALM scheme.
Noted as the low-hanging fruit of our relationship, as indeed it has been post‑COVID, Vanuatu looks forward to working closely with Australia on finalising our labour mobility agreement and at the Pacific‑Australian Labour Mobility Scheme. But in order to move forward, both countries must work hand in hand to identify our strengths and weaknesses for the upcoming scheme and ensure that they are reflected in the new agreement. A good basis that will support negotiations would be to undertake a potential study in Australia to identify Vanuatu's economy, economic contributions to the Australian economy in the agricultural and horticultural sectors as well as in the other sectors. It is important that we both understand the values that we bring into our long and lasting partnership in labour mobility. While labour mobility is a win‑win for both of our economies, it does not come without its own course of challenges, especially in welfare and pastoral care. As a partner, I strongly believe that we can work together to define the best model of care that will benefit us all. I believe that the time is now.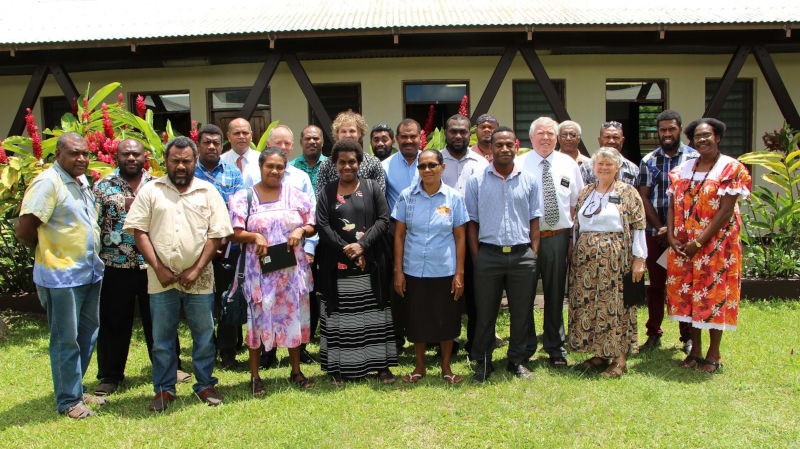 Related to this and in the interests of strengthening people‑to‑people exchanges and seeing that most Ni‑Vanuatuan currently travelling to Australia, those involved in Australia's labour mobility schemes, Vanuatu wishes to seek your understanding to ensure streamlined visa processes and affordable rates for Ni‑Vanuatu. Like labour mobility, the export of kava into the Australian market is one that directly impacts the lives of our rural Ni‑Vanuatu which comprises approximately 70 per cent of the national population. To that end, Vanuatu welcomes the increase in personal allowable quota to four kilos since December 2019, and looks forward to the positive results of the proposed official importation bylaw 2021‑22 for nonmedical purposes, in addition to the medical and therapeutic purposes currently allowed under the permit. Vanuatu is looking forward to increasing its export target to Australia, especially when Vanuatu's own the best in the region if not in the world.
In the education sector, Vanuatu thanks Australia for all the support provided in training current and future workforce of the country. Australia is renowned to have one of the best education systems in the world. Like other countries, Vanuatu would like to tap into your education system and would greatly appreciate if Australia could open up its technical and tertiary education by allowing us to study in Australia while the local fees just like our other members of the Pacific family like Cook Islands, New Zealand, Niue or Tokelau. Vanuatu is now at the crossroad where it must beef up its technical capacity with world‑class education qualifications.
Finally, Vanuatu welcomes Australian Infrastructure Financing Facility for the Pacific, AIFFP, and looks forward into tapping into the fund in the not‑too‑distant future. It is our further hope that this – this funding opportunity will be utilised prudently to finance vital infrastructure projects, be it social infrastructure that contributes to the betterment of the lives of every Ni‑Vanuatu and directly contributes to Vanuatu's socio‑economic development, perhaps something that can be best realised collectively. By the same token, Vanuatu also welcomes Australia's new policy directives on international development or aid to target and stands to benefit the Pacific.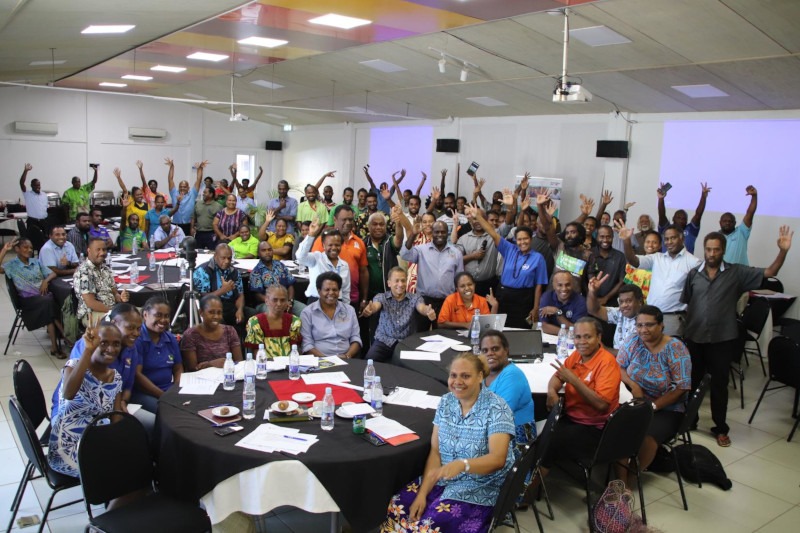 In closing, let me once again convey our acknowledgment to Senator Honourable Penny Wong and Honourable Pat Conroy and the Shadow Ministers for this timely visit which takes the Australia‑Vanuatu relationship to another level and look forward to a future opportunity even as early as in 2023 for the Vanuatu side to visit Australia. In the meantime wish all delegates and a most pleasant stay in Port Vila and many happy returns for the festive season and new year, 2023. Thank you.
Penny Wong, Foreign Minister: Thank you very much, Foreign Minister Napat and thank you for taking the time to speak with us and talk through a number of the issues you've raised. Can I say how wonderful it is to be here in Vanuatu with my parliamentary colleagues, obviously Pat Conroy, a Minister in the portfolio with special responsibility for the Pacific, but also Simon Birmingham the Shadow Minister for Foreign Affairs; and Michael MacCormack, the Shadow Minister with responsibility for the Pacific.
As I said to the Foreign Minister, the fact of a high‑level bipartisan delegation is a statement – it is a statement about the enduring nature of our partnership with Pacific Island nations. It's a statement about the importance we attach to our relationship with you, with Vanuatu, and with all other members of the Pacific Island Forum. And I was privileged – it is a long time ago, but I was privileged to be here in a bipartisan delegation with Julie Bishop. I was in Simon's shoes then – I like this better – but it was I think a really good initiative which I'm very pleased that we are making a commitment to.
Our relationship with Vanuatu is one of mutual respect, and I emphasised that with the Foreign Minister. It's a partnership of equals and we have a lot to learn and we have a lot to share and we have a lot to do together, and I am hopeful that our discussions here today and our ongoing discussions will enable us to share and do more in the future.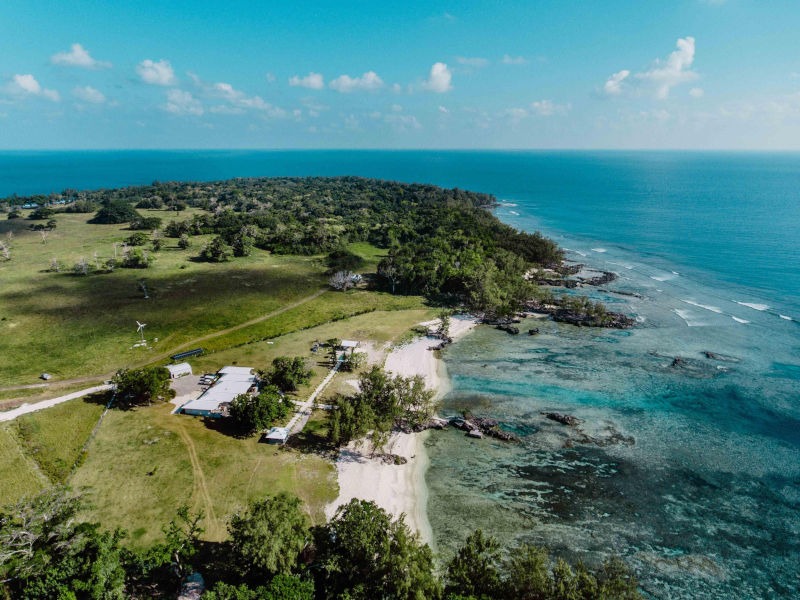 The Foreign Minister spoke about the Boe Declaration. It's an incredibly powerful document actually, and it reminded me when I read it years ago was about the weight with which Pacific Island nations speak when it comes to climate, because Vanuatu and Tuvalu and Kiribati and all of the members of the Pacific Island communities, they speak about climate with the authenticity and weight of lived experience. And we – you know, part of Australia's obligation is not only to respect that but to elevate those voices in the international forum, and that's certainly, when I was climate Minister one of the things I sought to could a decade ago, or more than a decade ago, and we'll continue to do it in the way we approach the UN negotiations about climate.
The Boe Declaration talks about climate change being the single biggest threat to the livelihoods, the security and the wellbeing of the peoples of the Pacific. It's the single biggest threat, so when we come here as Australians we come here recognising that that is a truth with which this country and its people and the region in which it resides has been dealing with for a very, very long time.
We spoke at length about the labour movement programs and obviously at the council of chiefs as well, that was an issue of discussion. Ni‑Vanuatu are the largest component of our Pacific labour movement schemes, makes an important contribution to the economy here, but as the Minister correctly pointed out, it makes an important contribution to our economy because we need those workers. We're really conscious of the benefits but also of some of the ways in which we can improve the program, and I'm really pleased to have Pat here to listen firsthand to many of the issues he's very aware of, but to listen firsthand to the Minister and to the chiefs and to the community about the ways in which we might have that program work in a way that is even better for those who participate and those who receive the remittances.
The Minister also spoke about infrastructure. This is central to the economic challenge that Vanuatu faces. Vanuatu, rightly, seeks to develop fully all of its economic aspirations and infrastructure matters to that. And, obviously, Australia is putting additional money into a financing facility as well as additional money, funds and resources into our development assistance program because we see our responsibility as partner, as a member of the Pacific family, to work with Vanuatu on its priorities.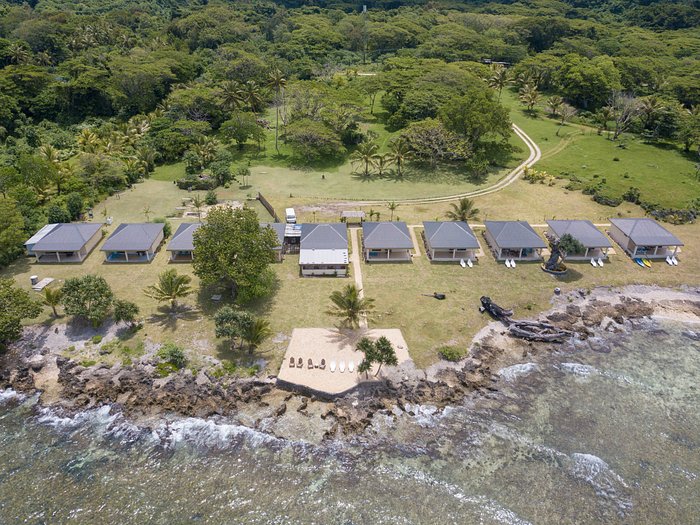 The Minister also spoke about education. I'm always reminded, and I say this quite often, from Minister Napat, and I hope you don't mind if I repeat it, when I was child in Malaysia and my father was telling me I had to study hard – it's not unusual – he always used to say, "They can take everything away from you but they cannot take your education", because for him and for so many people in Malaysia and in developing countries around the world education was, you know, that personal resource. So, I really understand what you have spoken to us about today, the importance of us doing more together on education. So, I've asked my officials to work with yours to see what more can be done, what more can be done when it comes to that.
So, I am really deeply appreciative of you spending time with us and talking to us about the Government's priorities. I'm very appreciative of your generous welcome in your statement today and of the opportunity to engage with you and with members of your staff and your department, and we look forward to many more discussions in the days, weeks and months ahead.
Simon Birmingham: Firstly, thank you very much Foreign Ministers. Foreign Minister Napat, thank you for hosting all of us today and the welcome that you have provided along with the President, the Council of Chiefs and community leaders to Vanuatu, and we look forward very much to building upon that and engaging with local small businesses, traders, the Prime Minister, and other leaders and seeing the outcome of our partnership in a number of ways tomorrow. And thank you, Foreign Minister Wong and Minister Conroy, for inviting Michael MacCormack for inviting us to join you on this bipartisan mission to Vanuatu and to Pacific Island nations.
Australia is at its strongest when we speak with one voice and by being here in a bipartisan delegation we are making clear that Australia's support for Vanuatu and for all Pacific Island nations is a partnership that is valued across politics in Australia. It is one of the highest priorities for all parties of Government and one in which we are committed to working closely with one another cooperatively to ensure that the partnership of respect, the friendship and the engagement between our countries is as successful and fruitful as possible.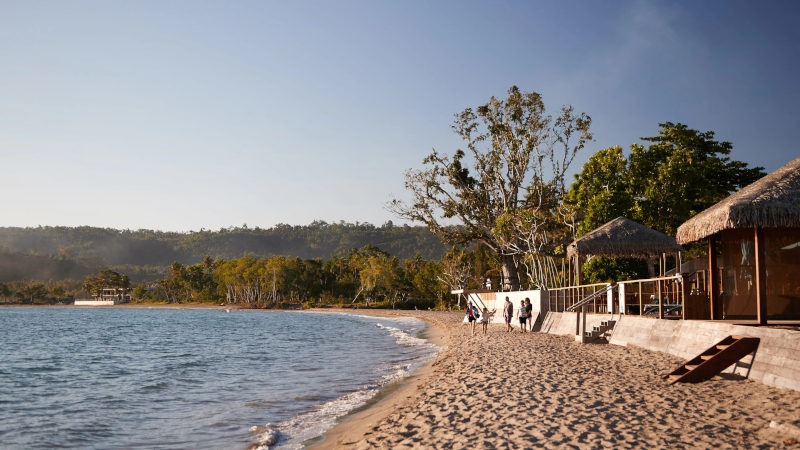 Foreign Minister Napat, I appreciate very much the acknowledgement that you have provided to initiatives such as the Australian Infrastructure Financing Facility for the Pacific, the work in response to COVID, the step‑up in relation to the Pacific Mobility Labour Scheme, efforts that we have undertaken over recent years to strengthen our ties and relationships. I acknowledge the work the new Government is providing to build on to extend and enhance that and welcome their initiatives and policies.
We face real and significant challenges in our region and across the globe, working in ways to ensure the peace, stability and prosperity of our region to ensure that the sovereigty of all nations is respected and secured through effective, respectful partnerships; to ensure that we respond to the challenges of climate change so clearly enunciated in the Boe Declaration and in the statements in advocacy of your nation and others in powerful ways through international fora, to work to continue to enhance the cooperation in areas of health, education, labour exchange, and to build on the opportunities created through trade agreements that we discussed such as the PACER Plus Agreement that can and should provide enhanced opportunities for Vanuatu businesses to access Australia's market and provide Australians with access to high quality premium Vanuatu produce and goods in the future that I'm sure will be enjoyed many in Australia and create more business and economic development opportunities here in Vanuatu.
So, thank you once again for the opportunity to be with you. We are here to send the clear message of bipartisan support of shared commitment to our partnership and we are here to listen and to learn and ensure that from that listening we are able to ensure we have the most cohesive and unified set of policies in the future to continue to take our partnership from strength to strength.