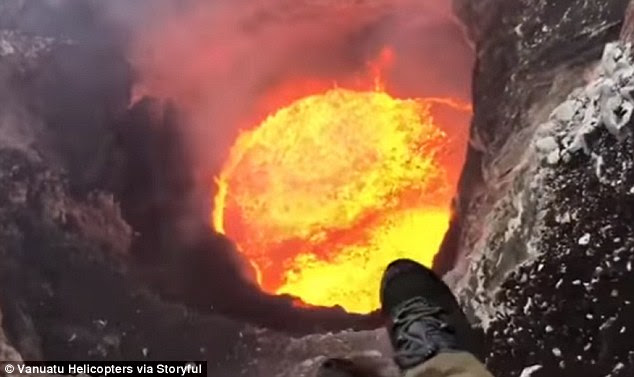 By CHEYENNE MACDONALD FOR DAILYMAIL.COM  and AUSTRALIAN ASSOCIATED PRESS | July 10th 2018
A helicopter pilot has shared hair-raising footage of the view just above the mouth of a bubbling volcano.
In a jaw-dropping video shared by Vanuatu Helicopters this week, Pilot Andy Martin's legs can be seen dangling over the massive Benbow Crater on Ambrym Island.
The minute-long video shows a glimpse into the terrifying lava lake at the heart of the crater, which sits atop one of the many active volcanoes in the Vanuatu archipelago.
To capture the breathtaking view, Martin filmed himself as he dangled over the volcano on a zipline on July 5.
The stunt might seem shocking to some – but, it's not the first time a daredevil has taken to one of Ambrym's lava lakes to get the perfect shot.
Back in October 2016, expedition guide and photographer Chris Horsley rappelled to the bottom of Ambrym's other crater, Marum, and set up camp for a night beside the lava lake.
And in 2015, mountaineer Nik Halik managed to snap an incredible selfie in front of the spewing lava at Benbow.
Ambrym Island is part of a string of active volcanoes in Vanuatu, which sits along a north-south subduction zone.
Ambrym, Ambae, Lopevi, and Yasur, are some of more than a dozen volcanoes in the region that have gained notoriety for their activity.
Ambrym erupts several times per century in explosive events, while Yasur, on the Island of Tanna, has been erupting steadily for centuries.
While volcanic activity has drawn intrigue from tourists, it's posed challenges to those who call the islands home.