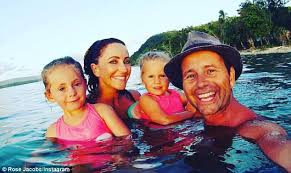 Richard Butler | Daily Mail Online | July 31st 2017
How's the weather up there? Today's weather presenter Steven Jacobs poses for hilarious photo with Sydney Kings basketball stars
He's known for his skills as a weather presenter on Weekend Today.
But two statuesque athletes stole the show during a cross with Steven 'Stevie' Jacobs earlier this week.
The Today Show page poked fun at the media personality's stature in a post on Tuesday.
The page comically captioned the snap: ' standing tall with his mates from … #9Today.'
Fans also appeared to find the upload humourous, commenting on the thread with messages to Stevie.
'You have to grow some Stevie!!!', 'better start eating your veggies' and 'a midget between the giants lol' they wrote.
Others related to the star's high-spirited pose in the picture: 'Haha. I was like that once on the escalator at Melbourne airport. Had Melbourne players behind me. Felt like a toddler.'
Jacob, and ex his wife of seven years Rose, gave up life in the big smoke earlier this year and moved their whole family to Vanuatu after he retired from the Today show.
He tearfully farewelled the Today team in January after 12 years of presenting the weather.
Steven and his family have settled into life in a beachfront cabin they previously rented out to holidaymakers.
The father of two now works as a weather presenter on Weekend Today, commuting to Sydney from Vanuatu every week.
Steven shares four-year-old Francesca and six-year-old Isabella with his wife.