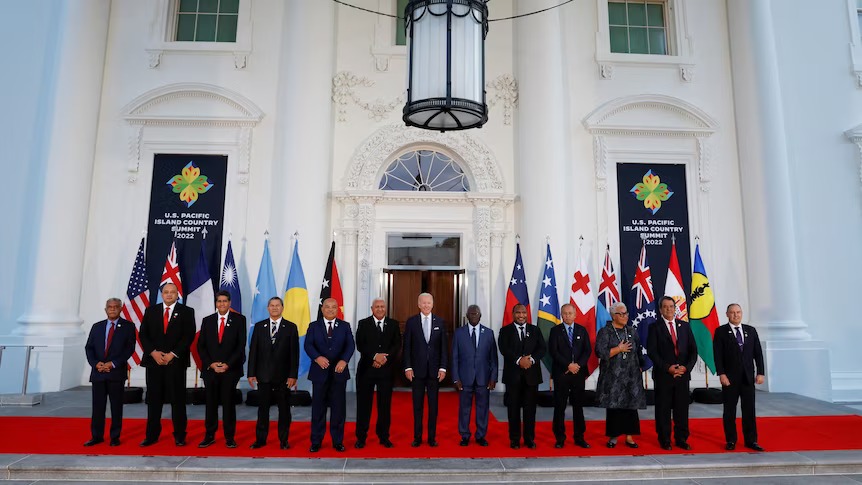 Richard Butler | Exclusive Report by Stephen Dziedzic of ABC NEWS | MARCH 25th, 2023
Top White House Asia advisor Kurt Campbell has confirmed the United States has moved to open a fourth new embassy in the Pacific, as speculation mounts that US President Joe Biden could pay a historic visit to the region as soon as May.
KEY POINTS
Joe Biden hosted Pacific leaders last September, and is expected to be invited to a return summit in the region
Two Pacific Island government sources told the ABC Mr Biden might visit the Pacific in May
Mr Biden is set to attend the Quad meeting with leaders from Australia, Japan and India in Sydney in the same month
Mr Campbell told journalists in Vanuatu this week that the Biden Administration was fast-tracking efforts to open an embassy in the capital, Port Vila.
The US has already reopened its embassy in Solomon Islands, and is also planning to open new diplomatic missions in both Tonga and Kiribati.
Mr Campbell said the push to reinvigorate and expand the US diplomatic presence across the Pacific showed that the Biden Administration was intent on doing more to help Pacific nations tackle a range of challenges, including climate change, drug smuggling and illegal fishing.
"We are determined to take the necessary steps to step-up our own game. We recognise that there have been periods where we have not been as deeply engaged as we should have been," he said.
Mr Campbell acknowledged there was a "degree of strategic competition in the Pacific" but denied the intensified US engagement was driven by a desire to push back on China's growing influence in the region.
"We do not seek a new Cold War. We do not seek confrontation," he said.
"Our role is to address the specific, urgent needs of the people in the Pacific Islands."
Last year, the US Congress passed an act authorising funding for new missions in Vanuatu, Solomon Islands, Tonga and Kiribati. Mr Campbell said that the US administration was determined to move quickly to build up a bigger footprint, including in Port Vila.
"We have our advance team coming [to Vanuatu] almost immediately to start scouting and to take the necessary steps. If we had our way, [we would open it] tomorrow," he said.
"But there are some initial steps that we have to take, with respect to the appropriate properties, security and the like."
Mr Campbell also visited Solomon Islands, Papua New Guinea, Vanuatu and Fiji on his latest trip through the Pacific.