By Nick Butler
---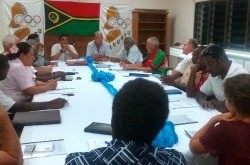 Cyrille Mainguy has been re-elected secretary general of the Vanuatu Association of Sports And National Olympic Committee (VASANOC) during the body's Annual General Meeting in Port Vila, while it was also confirmed the Pacific nation will host next year's Oceania National Olympic Committees (ONOC) General Assembly.
Mainguy, first elected to the post in 2011, is a former Oceania Davis Cup tennis player who is currently head of Vanuatu Tennis and vice-president of the Oceania Tennis Federation.
He will continue to work alongside VASANOC President Antoine Boudier to engineer the sporting recovery effort following the devastating impact of Cyclone Pam in March, with the island having been boosted by the recent visit of an International Olympic Committee (IOC) delegation including President Thomas Bach.
During the meeting, which comes just two weeks after this year's ONOC General Assembly in Fiji, Eileen Nganga, Yannick Jacobe and Mike Masauvakalo were all chosen as executive members for the next four years, while Henry Tavoa was appointed chief executive for a fifth term to continue a role he has served since 2001.
Governing bodies for archery, athletics, boxing, cricket, football, hockey, judo, netball, rowing, sailing, squash, table tennis, taekwondo, tennis, volleyball and weightlifting were all present, with the Vanuatu Aquatics Federation admitted as the newest member of VASANOC.
A Constitution Review Committee was also established to work on proposals to amend the statutes ahead of a final decision being made at the 2016 AGM.
This follows previous amendments in 2003 and 2011.
Preparations for the Pacific Games were also on the agenda, as well as the decision to formally approve Vanuatu as host of next year's ONOC General Assembly, which will also mean the island hosts the annual Pacific Games Council meeting as well as various other continental-wide events.
No precise date has yet been given for the meeting, which is usually held in either April or May.