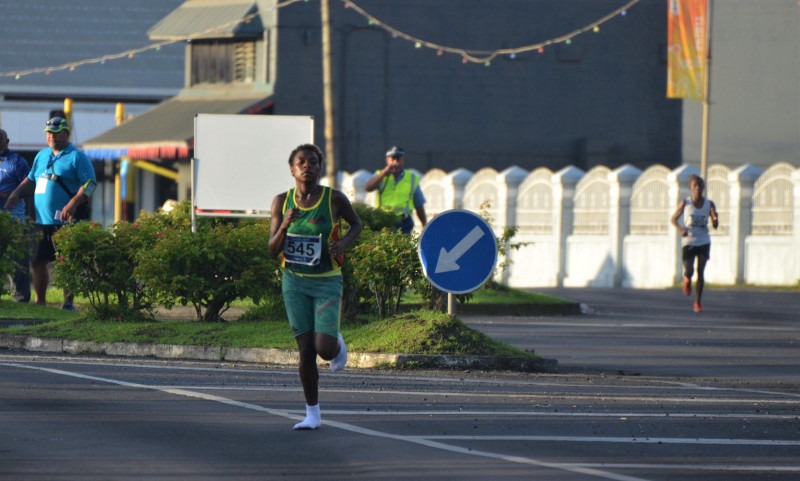 Richard Butler | Exclusive by Anne Francis of Running Magazine | July 21st, 2019

Kuras of Vanuatu makes history by winning the XVI Pacific Games Half-Marathon on bare feet.
Margaret Kuras, 20, of Vanuatu, a nation of Pacific islands between Australia's eastern coast and Fiji, won the XVI Pacific Games half-marathon yesterday wearing white athletic socks without shoes.
Her time was 1:29:55. According to the Pacific Games News Service, she had won all the distance events in Vanuatu in bare feet before competing at the Games, which were held in Samoa. Kuras finished 15 seconds ahead of Dianah Matekali and Sharon Firisua of the Solomon Islands, in second (1:30:10) and third place (1:32:36).
It seems Kuras felt some pressure to wear footwear for the race, but donning socks was as far as she was prepared to go. "Wearing socks is a personal decision that I made because I had never run with shoes on before, so I didn't feel comfortable running in shoes at these Games," she told the news service. "When I tried the shoes on, my feet felt too heavy and I didn't like it.
"I was nervous to run without shoes on, because I could see everyone else with shoes on, but I knew that wearing shoes was not an option for me if I wanted to win, so I chose to run with socks on instead. I know there are a lot of young people back home who have never run with shoes on, just like me.
"I would like to tell them that shoes and other gear are only there to help us be more comfortable when running, but they are not the reason why we win. Our talent, determination and hard work are the reason why we win.
"So I would like to encourage them not to be afraid to expose their talents so they can have the same opportunities that I was given."
Kuras said her brother Sam, who was also running the half-marathon, slowed down to run with her and encourage her in the final metres of the race, for which she expressed gratitude. (No word on whether Sam was wearing running shoes.)
Kuras also won silver in the women's 10,000m on Thursday.