2018 release
All Episodes
Richard in Australia and Lance in Vanuatu chat about Real Estate Opportunities and Lifestyles of the South Pacific.
Here's your chance to get both the insight that comes from almost 40 years as a successful Real Estate Developer (Richard, who is also a Trade Commissioner to Australia for Vanuatu) and an inside look at life as an expat enjoying living in the paradise that is Vanuatu.  (Lance)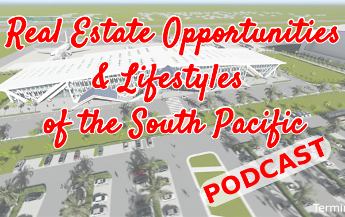 Paradise offers a low cost Plan B for residency. A decade of amazing growth forecast up to 300% increase in tourism. "We will triple tourism by 2030" proclaimed the head of Vanuatu tourism – our energetic VTO CEO Adela Aru – on the front page of the paper. Huh!?! ...
read more
Featured Episode
Why Consider Investing in Vanuatu?
Where it all begins.  The basics of the foundation.  Check this out first, and if it's not you, go no further.  On the other hand if it IS you, no doubt you will want never to miss a single episode.
Sign up now below (it will not interrupt your listening)  to receive an emailed announcement when a new podcast is released.
2018 Release, Episode 001    |    26:16 min